Spectacular Public Nudity Movie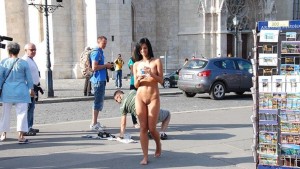 Alyssia is (after Tereza) our second model we have taken together with the team from nude-in-public.com to Budapest. Alyssia was also very excited because she has not done a nude-in-public shooting before. Tereza made a start – now it was time for Alyssia…
The first series we did take it easy. We started on the way to Fisherman's Bastion on a small platform where you could see the beautiful Governor's Palace.
Once she was naked, she ran up the path again and down and came into contact with some tourists who wanted to take a picture. But that was just for warming. The second series…..