Short Story Of Our New Girl Terra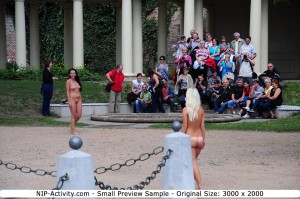 Our model Tara has conciliated Terra to us. We drove with her from Prague to Brno to also do a shoot there. We appointed another photographer beforehand to do a series with two girls. Unfortunately, the weather on this day was terrible so that it rained over and over again, and we had to pause.
The first series started at the inner-city where Terra walked along the shopping street. Many passersby thought it was funny and took photos. A few, on the other hand, didn't understand how someone could do something like that. We also realized pretty quick that the passersby are much cooler in Prague than here in Brno. But Terra didn't care at all and enjoyed her trip. In the end, we had a delicious ice cream. Terra started her second series at a park with……Read Now Her Full Story!