Nude In Public Babe Paris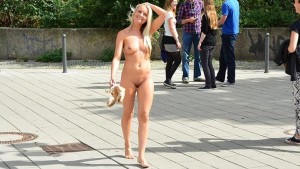 Because of the many requests for a second shoot with Paris, we have decided to take her to photoshoot in Berlin. She was just as funny as the first time and she knew how bring people to laugh with her happy and natural way.
We started close to the TV tower because there is always a good crowd and Paris wanted a lot of pedestrians to begin with. She started posing for a camera as soon as she got naked and for the people that became aware of her. There were more and more people in front of the TV tower and wanted to take photos with her. It wasn't as easy to move forward because we got stopped every couple of seconds. A few pedestrians even had great ideas, e.g. they wanted Paris to do some sports exercises but she thought that it was so funny that she couldn't stop laughing. We stopped after about 20 minutes to shoot somewhere else as well. We did have to hurry as it looked like it was going to rain.