Leonelle and Laura naked in prague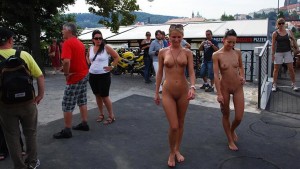 The shooting with Leonelle and Laura was not as planned. Normally we wanted to make this weekend only the shooting with Aliska, but then everything was different.
A day before I had the phone with Laura and somehow I asked her for fun if she would be interested in visiting Prague for another shooting with us. Although she was at this time in Austria she immediately agreed and promised me to be at the meeting point a day later…. condition: her girlfriend Leonelle had to join the shooting.
Ok – no problem for us, the better, so we had again a shoot with two girls.
We wanted the two meet at noon but we knew Laura as she was late …. One hour!!
We briefly explained our plan, and then it went off directly. For both it was extremely important to go naked across the Charles Bridge. This request, we could not refuse, of course.
We started the first series…..Read Now The Full Story!
View Now The Sample Movie Of Leonelle and Laura naked in prague