Teen July Naked In Leipzig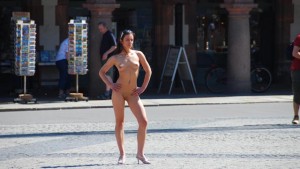 For the shoot with July I don't need to write a lot because it was simply just fantastic!
Everything had come together: A reliable, punctual, joyous, very nice and most of all a good looking model!
We met July in the inner city of Leipzig with the most julyutiful weather. July was anything but camera shy, and also quite outspoken. When a pedestrian asked her how long and where she would be running around naked, July boldly replied: "Always keep going, straight ahead". She also noticed that a young man was following her, quite inconspicuously, during the first shoot! She noticed him again during the second shoot and sat down next to him and said: "I noticed you before! Come let's take a picture!!" Watch Now Her Sample Movie!