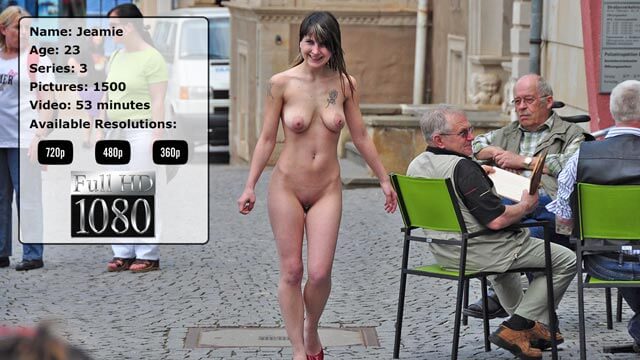 Everybody wants Jeamie's public nude pics
When it comes to public nude pics Jeamie has no inhibitions what so ever. She visited Eisenach and gave the people a very memorable afternoon. Her body has tattoos and piercings in a few places and the people didn't mind her showing them off. Her lean figure made for an excellent photo session and many men smiling in the crowd attested to that. Her alternative looks is a very refreshing sight for those who like edgier women. And it appears that her look was a hit considering how positive the people reacted to her.
Babe form Eastern Germany left a lasting impression
Thousands of public nude pics of hot models could be yours today, and with sexy girls like Jeamie who wouldn't want to join? If tattoos and piercings are your thing then Jeamie is your dream girl. You will especially enjoy the nipple rings on her natural breasts as they were enjoyed by the people she passed on her tour. They also enjoyed the rest of her tasty milky white body as well. She wore a pair of red heels for a while which was a superb pairing for the devilishly hot Jeamie.
Seeing her flower made a lot of people happy
Professional public nude pics taken by Nip will make you feel like you were there. The HD quality will really make you appreciate the flower tattoo above Jeamie's left breast, as well as her delightful breasts. People from cafés and restaurants certainly had a pleasant reaction to them. You would probably forget whatever you were doing if you saw such a sensual babe walking right next to you or posing against a wall completely naked. Imagining what you would do with her and how you would play with her various piercings.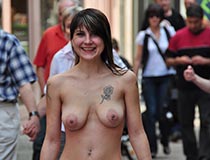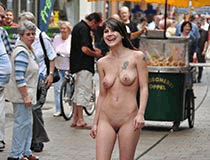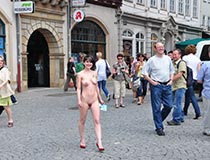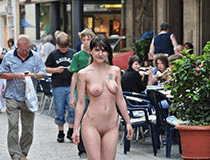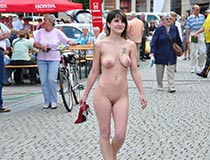 Hi-Speed Downloads
Updates 3 Times a Week
Exclusive Content
iOS Proof
Android Ready
24/7 Support
High-Resolution Content
Mobile View Possible
Tablet View Possible