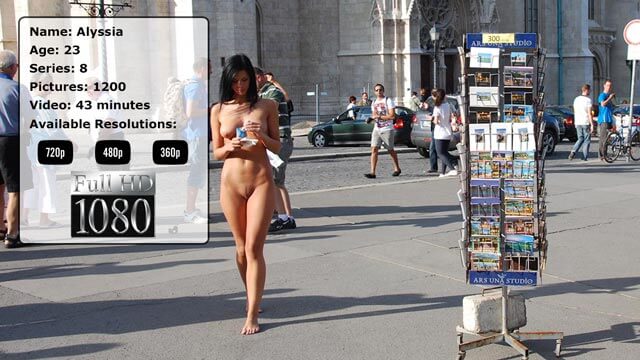 Public naked show by the seductive Alyssia
Making public naked shots of sexy women is what Nip is all about. Alyssia visited the great city of Budapest displaying every inch of her lovely naked body for the lucky people in various public locations. Parks, streets, bridges and tourist locations were graced by this attractive black haired model. She also greeted and smiled the happy fans who called out to her. Alyssia wasn't alone the whole time. She got support from her red haired friend Tereza by posing together for a bit. Their lovely asses will be something you remember forever.
Naked model gets a lot of happy stares
Seeing hot models in public naked situations is a very exciting experience, as most men will agree. The Czech beauty Alyssia gave a thrill the populace as she strutted down the streets of Budapest and posed seductively in various public places. While lying down on a stone railing the sun bathed her sexy body and made it even more desirable. Her lovely long black hair dancing in the wind made her naked body stand out even more. Naturally the people were drawn to her beautiful appearance where ever her tight butt went.
Cheerful babe will brighten up your day
Models making public naked poses will give you a thrill and a smile. There are few things which will surprise you more or make you smile faster than a naked babe walking down the street like Alyssia. With no shyness what so ever she showed off her nice ass and natural tits to the people in the parks, on the streets and city center. Some timid people only stole some glances of her beautiful body, but the braver bunch had no problem admiring the contours of her body and taking a few pictures.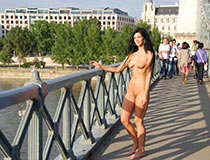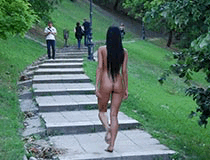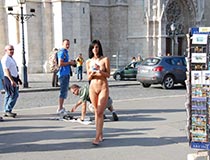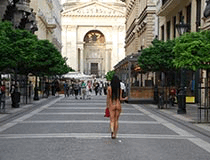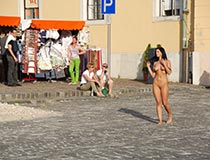 Hi-Speed Downloads
Updates 3 Times a Week
Exclusive Content
iOS Proof
Android Ready
24/7 Support
High-Resolution Content
Mobile View Possible
Tablet View Possible