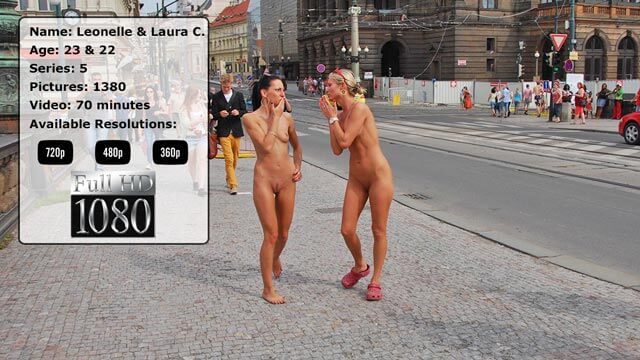 Two hot women love outdoor nudity and so will you
Outdoor nudity is not a single person activity and it shouldn't be. The more the merrier as they say. I'm sure the people of Prague agreed whole heartedly after seeing Leonelle and Laura make the rounds through the streets and various tourist destinations. A busty blonde and a slim brunette walking naked probably stirred up some fantasies for the men and women which saw them. Some old couples just stopped in their tracks and gazed in wonder at the pair, while younger couples tended to smile and even take pictures.
What's better than one hot naked woman?
Outdoor nudity is not something you can see every day, but with girls like these you would certainly want to. Leonelle and Laura have different body types and together this sexy pair covers the wants and desires of most men. Seeing them showing of their naked bodies for the entire world to see may not be everybody's fantasy, but the men had no complaints. They just slowed down their pace to fully enjoy the view of their lovely asses and perhaps to make a more lasting memory with their cameras or mobile phones.
Delightful nude duo received a lot of happy glares
You may wish that outdoor nudity was a more regular occurrence after seeing this hot pair. We all can see hot women every day, on the streets, the TV, billboards and so on. But having a sexy duo like Leonelle and Laura totally naked in the streets was a dream come true for the lucky people who were in Prague that day. The models had fun posing with each other on the streets, seductively positioning their bodies showing of their enticing curves and assets to the self-evident glee of their audience.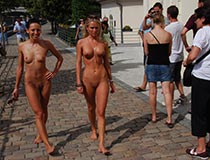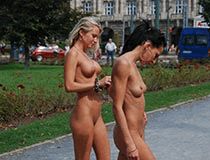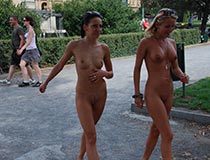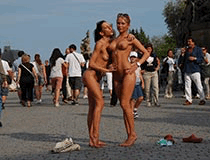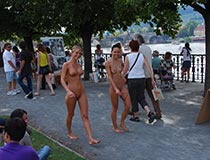 Hi-Speed Downloads
Updates 3 Times a Week
Exclusive Content
iOS Proof
Android Ready
24/7 Support
High-Resolution Content
Mobile View Possible
Tablet View Possible