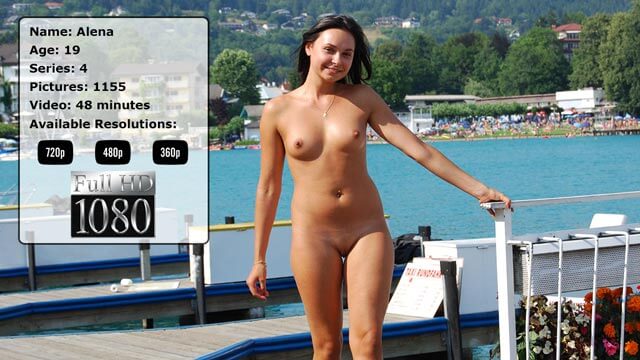 Nude public strut by the lake shore
While nude public exhibitions may not be for everybody, Alena definitely looked like she knew what she was doing. With a smile and a pair of heels she rocked the marina's walkway like it was a runway. While there weren't many people out and about, those who were got a full view of Alena's fine young body. The women commented to themselves and the men blissfully watched as she went on her way and of course took some pictures. It was a fun sunny day with a lot of smiles and hot nakedness.
Cute Italian babe struts her stuff totally nude
Making nude public photos is just another way of spreading love and peace. Alena's naked body didn't cause any trouble or fuss. In fact the effect she had on the people was positive. They smiled, they laughed, they took pictures and talked with her. Naked women in public may not be your thing, but you can't say seeing a naked babe like Alena on the street wouldn't bring a smile to your face. Her naked body could also be a natural alternative to Viagra, you won't know until you take a look.
Wonderful afternoon in Velden am Worthersee
Her nude public walking and posing gave the people of this merchant town a memorable day. The cutie from Italy passed by restaurants, cafés and shops alike and people's eyes were drawn to Alena from all of these places. It wasn't that strange with her petite body and tight ass being out and about. She smiled and talked with people completely naturally like she would if she was fully clothed. She even went for some ice cream at a local ice cream bar. Alena's sexiness was glaringly obvious when she posed for the photographer.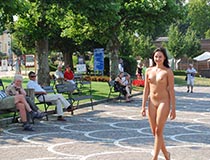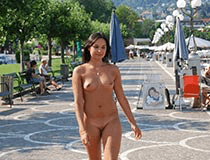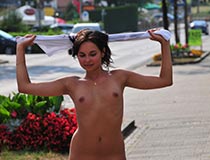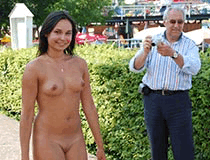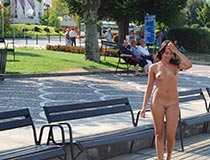 Hi-Speed Downloads
Updates 3 Times a Week
Exclusive Content
iOS Proof
Android Ready
24/7 Support
High-Resolution Content
Mobile View Possible
Tablet View Possible