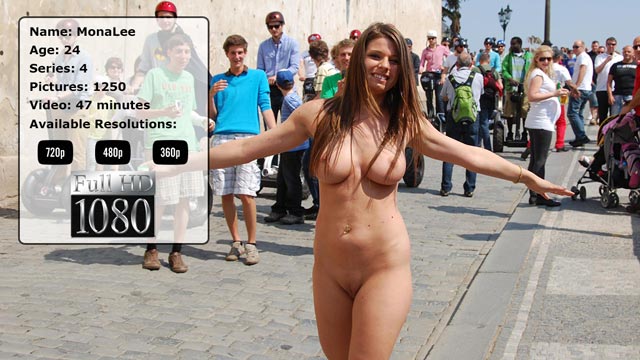 Mona Lee was a naked public spectacle
Prague has seen a naked public appearance from our other models, but it hasn't seen anything like Mona Lee. She is a Prague native, and as such knows what her fellow citizens love. Namely a cold beer and a hot women, and Prague is home to both. Mona is proof positive of the latter, with her curvy toned body, her big boobs and juicy butt all show how much the rumors are true about the beauty of Czech women. She displayed her assets around town for everyone to see and they enjoyed it.
Did you even notice the camera?
Mona's naked public presence disrupted people's activities everywhere she went. Which is perfectly natural, when you consider she is a drop dead gorgeous model walking butt naked on streets of Prague. Any man or woman would have to stop whatever they were doing if this busty beauty were to cross their path. She did have a camera to take pictures. But who would notice it hanging between her beautiful naked boobs? Maybe her fans, who took pictures of her everywhere she went, noticed it after they stopped staring at the tattoo above her butt.
Breathtaking nude model takes a leisurely walk
Naked public displays of hot women are a welcomed treat with a bombshell babe like Mona. She happily showed off all her curves while visiting parks, bridges and other tourist attractions. There weren't too many people around, but wherever Mona went a crowd naturally formed. Mona often sat and posed, allowing strangers to take a picture or two. They fed their phones with shots of her splendid body and winning smile. She later took a boat ride, with the wind in her hair and sunshine on her breasts she looked like pure sex.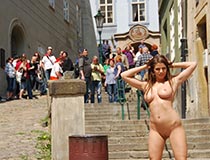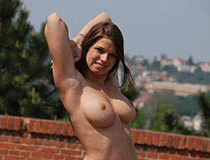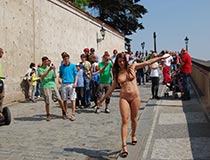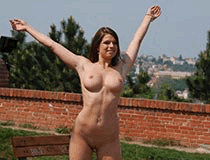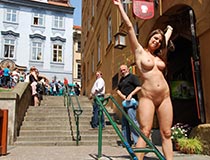 Hi-Speed Downloads
Updates 3 Times a Week
Exclusive Content
iOS Proof
Android Ready
24/7 Support
High-Resolution Content
Mobile View Possible
Tablet View Possible