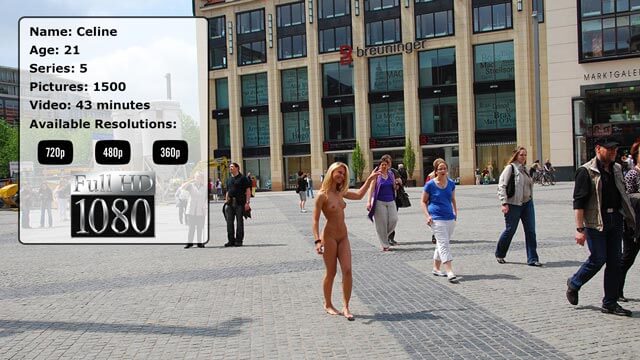 Naked girl in public makes Leipzig very lively
Sometimes a naked girl in public is just what you need to turn your day around. The happy blonde in this session made the streets of Leipzig very fun. Her name is Celine and she loves to have fun, especially while being nude. She has a thin body with perky tits and a firm ass. Her spectators were very friendly and she interacted with them freely. Though I can't imagine someone wanting to be mean to such a fun, happy naked girl. Nothing but smiles adorned her face for the entire day.
Celine from Halle is an uplifting model
You would think a naked girl in public would make you smile. How about one that does cartwheels in the park? That's what Celine is all about, lifting spirits. All during the shoot she was playing around in various locations around Leipzig. She did a model walk in the city center drawing a lot of attention with her hot body and winning smile. At one point she even got on a pogo stick and started bouncing on it like she probably did as a kid. Her appearance made a lot of people happy.
This blonde will greatly improve your day
I bet a naked girl in public isn't on any tourist map of Leipzig, maybe we should change that. If you could organize attractive models like Celine to appear at certain times and places on a tour of the city, you would be booked for months my friend. I say this, because, besides Celine's slender body, her charming demeanor is what makes her memorable. She is friendly, approachable, and playful and all while in the nude. Most people would be shy, but not her, she just warms your heart like a summer breeze.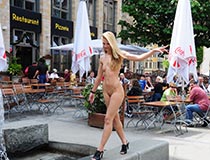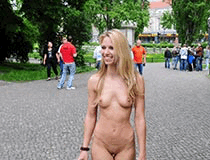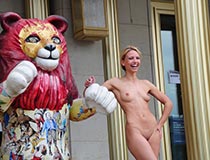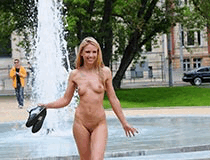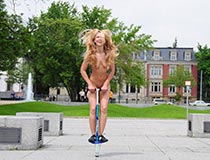 Hi-Speed Downloads
Updates 3 Times a Week
Exclusive Content
iOS Proof
Android Ready
24/7 Support
High-Resolution Content
Mobile View Possible
Tablet View Possible