Adela comes directly from the city center of Prague and thought it was totally cool to begin almost in front of her front door. So we started at the Rudolfinum to see how she is. Adela is still very young and open for anything new. We realized quickly that she was having fun being nude in public and that her cool and cheeky way appealed to the passers-by. So we walked around like that for a few minutes, and then stopped to throw ourselves into the fray.
We walked up the long stairs to the Prague Castle, which is very popular among tourists, where Adela had to stop to pose a few times. She enjoyed it and asked me to stop to meet even more people after a few minutes. Okay – no problem, of course, we like those models that have a lot of fun being naked in public the best.
So we walked back down at the other side of the road, but she was not happy here either. She enjoyed it anyway and joked around with the passers-by. She sometimes became very cocky and cheeky, which was well received by the tourists.
But, she was going to get enough people now, because I wanted to go to…Read Now Her Full Story!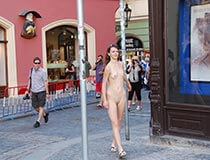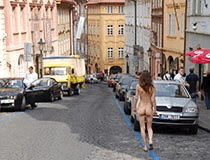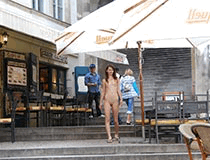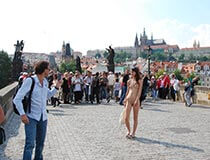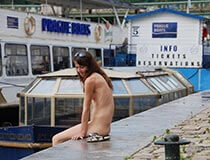 Hi-Speed Downloads
Updates 3 Times a Week
Exclusive Content
iOS Proof
Android Ready
24/7 Support
High-Resolution Content
Mobile View Possible
Tablet View Possible